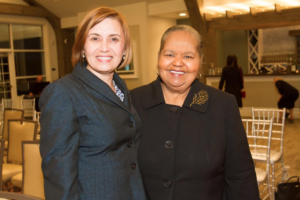 VolunteerConnect was honored to receive generous grant funding from the Princeton Area Community Foundation (PACF) and a number of other charitable organizations in 2017. Without these grants, we could not help to facilitate social change in our community and continue to support the missions of central New Jersey's corporate leaders and nonprofits.
Last fall, PACF awarded VolunteerConnect $25,000 through their Community Impact Grant program. This generous gift will help VolunteerConnect focus on providing the greater Mercer County nonprofit community with the strategic support they need to fulfill their missions. This includes board training and recruitment, skills-based volunteering opportunities and professional development for nonprofit leadership.
The Princeton Area Community Foundation promotes philanthropy and builds community across Mercer County and central New Jersey. It helps people and companies make effective charitable gifts and awards grants to nonprofits.
In addition, VolunteerConnect was thrilled to receive a $25,000 capacity building grant from the Bunbury Fund, a donor-advised fund within PACF. The Bunbury Fund supports nonprofits making significant impacts on social, environmental and educational needs across New Jersey, with a focus on Mercer County.
"Thanks to continued support from forward-thinking grant makers, we are able to continue to help strengthen our communities through our strategic volunteer programming," says Amy Klein, Executive Director of VolunteerConnect. "Many nonprofits are in dire need of professional support, and we are honored to be the catalyst to provide education and make the connections."
VolunteerConnect is grateful to its many other funders for their steadfast commitment to its mission. These include the PNC Bank Foundation, the PSEG Foundation, Janssen Pharmaceuticals, The Curtis McGraw Foundation, the Nordson Foundation and the George H. and Estelle M. Sands Foundation.