Beyond Volunteering: The Importance of Engaging Young Professionals in Board Service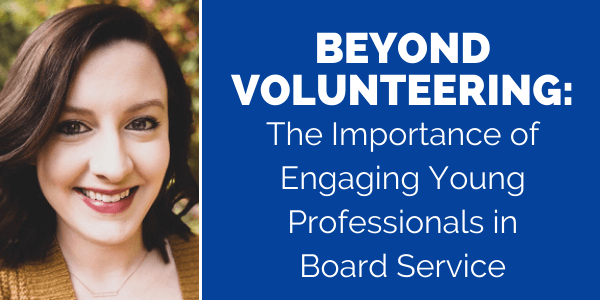 By: Dana O'Donnell
Director of Marketing, Szaferman, Lakind, Blumstein, & Blader, P.C.
Board Member, NonprofitConnect
As a young professional, I always thought of volunteering in your local community as serving food at a soup kitchen, packing backpacks with school supplies for underprivileged children, or walking dogs at an animal shelter. While each one of these tasks is an invaluable help to a nonprofit organization and nonprofits rely on such volunteers to keep their programs running and the community served, there is another way to serve non-profits that young professionals often do not think about: becoming a member of the board.
For many young professionals, when you picture the board of any organization, you picture a stuffy conference room full of professional men and women, mostly older, who have years of experience to offer and even deeper pockets. Many young professionals might think that they could never fit into this scene. But why not?
As a young professional myself, board service had never really entered my mind. As I learned more about the responsibilities of a board member, I became apprehensive. Would I be able to satisfy a give/get fundraising requirement, especially during an ever-changing economic climate? Would I be able to make such a huge time commitment? Could I offer other skills that would be useful to an organization?
According to the Millennial Impact Study; "Millennials have expressed or demonstrated the belief that their time, skills, talent, money, voice, purchasing power and ability to network all have equal value, and they offer them as such." In order to get millennials and young professionals to go beyond volunteering, organizations have to think beyond the traditional roles of a board member. Young professionals may not be able to donate thousands of dollars a year to a singular organization, but what they can offer is their professional skills, network, knowledge, time and passion.
The pandemic has increasingly shifted what traditional volunteerism looks like, thus shifting the ways to involve young professionals in your non-profit. With most professionals working from home and looking to find safe ways to occupy their time, joining a board may be the perfect activity that can be done remotely but also make a huge difference in your organization and the local community. Young professionals have much to offer in the way of fresh perspectives, growing professional networks and skill sets that may include social media and an understanding digital technology that fill in gaps in your organization.
Now that I have you wanting to add young professionals to your board, the question is where do you find them? These days, everyone is on their computer or on their phone, so go online! Use LinkedIn, or other social networks. Try Virtual Networking and look to organizations with Young Professionals groups and look to organizations like NonprofitConnect,  who train prospective board members to be effective, efficient and engaged.
It is no secret that millennials are accused of being lazy and entitled. However, in my experience, I have seen millennials bring more passion and drive to causes like climate change, racial and gender equality and poverty than their older counterparts and we have seen many of these movements mobilize even during the pandemic. It is important that we tap into their dedication to bring our non-profit organizations into the future. Young professionals have the fresh perspectives and ideas to change the way that change is made. Changing the way we volunteer is step one.