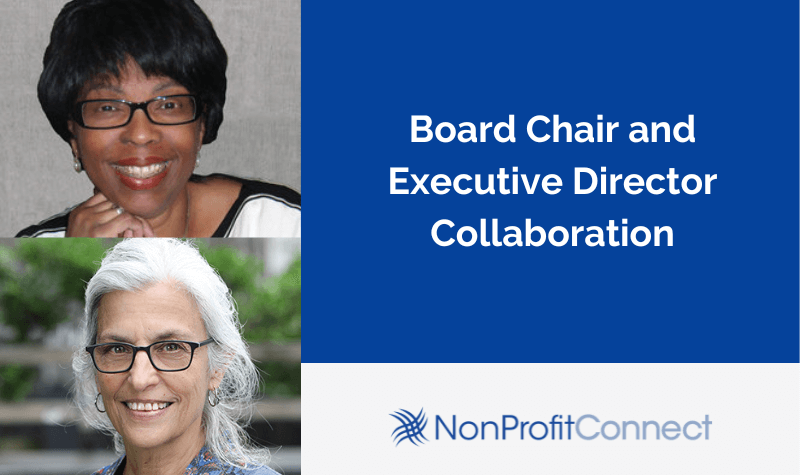 NonProfitConnect recently had the pleasure of having Tani Mills and Joan Malin from the Support Center to speak about how to build a successful board-ED relationship.  Here are key takeaways from their program specific to building a strong Board/ED Relationship.
How to Proactively Build the Board Chair/ED Relationship
Learn about each other

.  We all have different styles.  Get to know what works for your partner even in terms of what time of day is best to meet.  Does your partner do better with a social conversation first or get right to business?

Meet regularly

.  Start with a set agenda and try to save the majority of items for that meeting for efficiency and respect for one another's time.  If you are meeting on a schedule, it will feel more natural to bring up challenges and tackle them as a team.

Share personal aspects of each other

– get to know one another -celebrate birthdays, ask about how your colleagues' kids are doing.  By the way, this makes work more fun too!

Share your visions of the organization with each other

.  You will be leading the organization – you want to make sure you are on the same page!  You can also be prepared for any differences that you have so you can clarify and decide what direction you will take.

Prepare for board meetings together

.  You want to be sure that items of highest priority for the organization are addressed.  The board meeting belongs to the board but the ED knows the work of the organization best.
Although every board member's vote has the same weight, the board looks to the chair as a leader for decisions and board culture.   Once there is an established united front between the two key leaders of the nonprofit, chances are that they will be able to effectively lead the organization forward and handle any obstacles along the way in a collaborative way.
An Expert's Tip on Building Board/Staff Relationships
Invite your board members to visit your organization!  Some will take the opportunity. It allows them to see the team "in action." This is an excellent opportunity to get to know one another better, see the operation in person, feel the team's enthusiasm, see their contributions, and demonstrate impact in real-time. For the board member, a site visit allows for a deeper understanding of the mission and the significance of their advocacy efforts. For the staff, a site visit demonstrates their role as subject matter experts and to learn the Board members' interest in volunteering to serve.