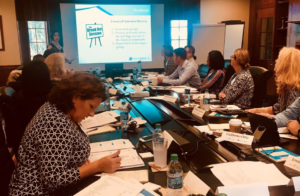 For more than a decade, Janssen Pharmaceuticals, Inc., a Johnson & Johnson company, has supported the mission of VolunteerConnect, most recently focusing on finding new ways to engage its employees in skills-based volunteerism and nonprofit board service. "We have a workforce that is passionate about community service. They want to give back," says Peg Forrestel, Director of Community Affairs for Janssen.
Through VolunteerConnect's innovative BoardConnect training program, several of Janssen's employees are now serving on nonprofit boards. "VolunteerConnect provides our employees with the knowledge and resources they need to serve on boards with confidence," says Ms. Forrestel. "Together with VolunteerConnect, we are making our community stronger."
In a recent volunteerism survey conducted by Johnson & Johnson, more than 50 percent of Janssen employee respondents expressed interest in serving on a board or engaging in some form of skills-based volunteerism. "Volunteerism is an integral part of our corporate culture," she adds.
This year marks the 75th year of the Johnson & Johnson Credo, which challenges the organization to put the needs and well-being of the people it serves first. "As a Johnson & Johnson company, we are proud to uphold that Credo. We feel a strong responsibility to the community in which we live and work, and to the world community as well," says Ms. Forrestel.
Many people, despite a strong desire to serve on a board, are not sure of the expectations involved. Janssen set out to demystify the board process. "VolunteerConnect training has shown our employees how their knowledge, expertise and experience can help benefit their community. They want to give back in a meaningful way, get to know other like-minded people, develop their professional and leadership skills, and work in collaboration with others who share their vision and commitment," says Ms. Forrestel.
She truly believes that the most effective board leaders are not only well trained but also serving organizations whose missions match their passions. "We are fortunate in central New Jersey to have such high-caliber nonprofits from which to choose."
Janssen strives to help employees find the best fit. "The outcomes can be powerful, and our employees appreciate our efforts," adds Ms. Forrestel. "VolunteerConnect helps us achieve this goal. It's a win-win for everyone."