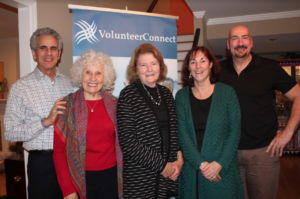 The world has certainly changed in the 20 years since VolunteerConnect was established. Here are just a few reminders of just how much it has changed: Caller ID, Facebook, Twitter, Instagram, hybrid cars, commercial GPS, smartphones, self-driving cars, emails and the Internet as we know it.
The list of things that did not exist 20 years ago is extensive. The list of things that are now obsolete is even longer. To endure for 20 years as the social, political and technological landscapes change does not happen by accident. To continue to have a positive impact in your community for 20 years happens with passion, purpose and partnership with those you serve. VolunteerConnect has that distinction.
Our nonprofit was started as Hands On Helpers in 1998 by a group of women dedicated to volunteerism. They set out to connect service-minded individuals with charitable organizations in need of manpower. In later years, when our name first changed to VolunteerConnect, we continued our volunteer recruitment services and included executive director development and volunteer management education.
Our name has changed, and our view of volunteerism and service has evolved in 20 years. Yet our commitment to supporting nonprofits in our community and to promoting effective volunteerism has not wavered. Today our services reflect the understanding that while the Internet and volunteer matching apps make it easier for those looking for traditional volunteer opportunities to find charities that need their time and physical labor, those volunteers don't always know their professional skills are also in demand. Our programs also reflect the increasing engagement of businesses in corporate social responsibility and the need of nonprofits for trained and experienced leadership. Board member training and training for executive directors are among our most popular services.
In partnership with area nonprofits, VolunteerConnect has impacted thousands of individuals in need and in crisis. Organizations such as the Boys & Girls Clubs of Mercer County, Homefront, Isles, Kidsbridge, Princeton-Blairstown Center and Trenton Circus Squad have tapped into our services to strengthen their boards, stretch their budgets, launch new programs, and service their constituents. Area corporations have engaged our programs to prepare their employees to serve in impactful ways. The ripple effect of our work reaches every corner of central New Jersey. In 20 years, the outcomes are immeasurable.
VolunteerConnect could not have such a proud legacy without your help. Your contributions have helped us to educate, train, connect, facilitate, support and promote volunteers, volunteerism and charitable organizations. It is with you, our partners, that we have been able to pursue our passion to serve. We thank you. And we look forward to the ways in which we will change and grow, to serve more and serve better over the next 20 years.