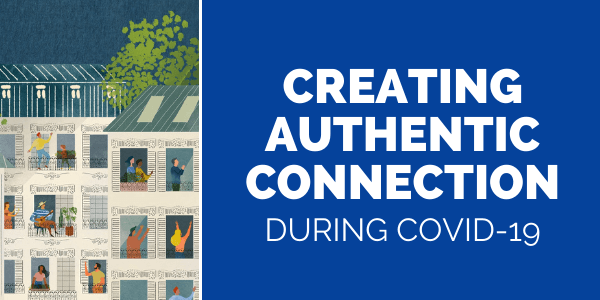 Creating Authentic Connection During COVID-19
Now more than ever, connecting with the community you serve and supporters is crucial. There's the obvious solution to be able to get some facetime with others: hopping on Zoom, Google Meet, or other videoconference platforms. However, with many people working from home, juggling virtual learning for their kids, and dealing with other commitments, hopping on yet another Zoom call can seem overwhelming at the end of the day. Remote engagement and technology are definitely necessary, but you should be mindful and strategic about how you use them to make sure your outreach is effective. Here are some strategies to figure out how to authentically connect with your community to keep them engaged in supporting your mission:
Social media is always an option, but to stand out for your supporters try engaging them with short (30 to 90 second) video posts.

Don't worry about being perfect – now more than ever people are looking for authentic, real updates and hearing directly from your board, staff leaders, and people who are impacted by your work can be powerful calls to action. If you need some more ideas, check out

this blog post from Classy

or

this article on nonprofit video engagement from Nonprofit Tech for Good

. With people feeling overwhelmed by all of the information and news coming at them every day, a well-crafted individual story or personal appeal will help cut through the noise and connect with supporters.

Donor gratitude and engagement matters more than ever!

As mentioned in the tip above, a short personal thank you video to donors can have a huge impact. Again, your video doesn't need to have massive production value to be effective – having an actual person affected by the program or service share a sincere thank you will let donors see their impact up close and personal. If that isn't an option for your agency based on the work you do, have your Executive Director or a staff member close to the work share updates about wins.

Bonjoro

is a great tool with a free option for incorporating these personal videos into your donor stewardship or volunteer appreciation work.

If you don't already, seriously consider how you can regularly write out and send personal thank you notes. Separate from an ask for donations, you may have longer term supporters and donors who have stepped up in the midst of COVID-19 to increase their support. Just think of checking your mail every day – what do you usually see? Lots of junk mail, maybe some bills, a magazine or two…getting a sincere thank you note from an organization you've supported is always a welcome surprise and generally something that all of us remember. Part of taking an effective approach is knowing your audience – some donors may like a handwritten note, but there are also services like Paperless Post and Handwrytten that can combine a personal touch with leveraging technology to save you time.