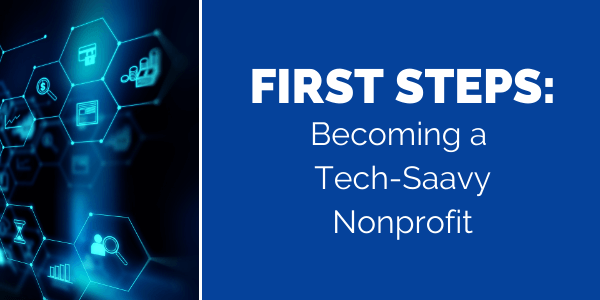 First Steps: Becoming a Tech-Savvy Nonprofit
With all of the challenges presented by COVID-19, staff capacity and funding are two of the biggest areas of concern for nonprofits right now. Here are some key tips for being able to think through adopting new technology and not overwhelming yourself in the process:
Start small and align any new systems with your priorities.

If you're like most organizations, your formal plans for 2020 probably flew out of the window and you may feel like you're reacting and planning week to week. Even so, you probably have some key goals at this point: engage current donors for year-end giving, recruiting volunteers, or planning a successful virtual event and programs. To keep things simple, make sure you ask yourself how any new systems will meet your key strategic goals; you want to make sure your valuable investment of time and financial investments pay off.

K.I.S.S. – Keep It Simple, Stupid.

As someone who likes technology, I understand how easy it is to get caught up or feel overwhelmed by the number of cool features a system has. However, those features take setup, management, and training – all things which may be overwhelming for nonprofits in this environment, especially if you are already stretched for capacity. There are a ton of low cost or free platforms that will get you good, solid results and are user-friendly, which is crucial for smaller nonprofit organizations.

We're big fans of the concept of a flywheel process:

start simple, learn fast, celebrate small wins, and build momentum towards bigger and better things.
For those of you wondering how to pay for technology during COVID-19, here are a few great starting resources to check out. TechSoup offers deep discounts on software and hardware for nonprofits in addition to webinars and training on technology. They also have some free courses available for nonprofits due to COVID-19, COVID-19 technology resources, as well as a micro-grant program to reimburse nonprofits for technology investments.
In addition, the Nonprofit Technology Network (NTEN) has a free technology assessment for organizations that can help you identify areas for improvement and great online courses and certificate programs (with scholarships available).
Finally, here's a list of our top five technology resources and platforms to check out for nonprofits. They cover everything from graphic design to video production/editing and can help with social media content, virtual event planning, and more:
Diverse Stock Photography: pocstock, createherstock, mochastock, Unsplash, Pexels
If you are in need of high quality, diverse stock photos for marketing materials, your website, or social media posts, the sites above are a good starting place to look. Some services also include the ability to download and use free or low cost stock video footage as well.
Tribute: if you'd like to create an engaging thank you video but don't have the time or capacity to film the footage yourself or hire a videographer, you may be interested in checking out this service. The platform allows you to have clients, supporters, and others film and submit their own unique personal video and compile the results into a high definition video to share and/or download. The self-editing system is easy to use and not too complex, or you can have a professional edit the submitted clips for you for a reasonable fee. This platform could be used to create testimonial videos from clients or community members who may be your most effective advocates and storytellers to help share the impact you've been able to have during this very challenging year.
Canva: We're big fans of this graphic design site, which has included more features than ever, including the ability to add animation to graphics for social media posts, publish directly to social media networks, and make your life easy by including ready made templates to save time and effort. They also have free Pro access to most of their features and a great discount for nonprofits – check out more details here.
Screen Cast-O-Matic: This platform and software is what we use for nearly all of our video editing. While it doesn't have all of the high-end bells and whistles, the interface is simple and straightforward, the platform has a very easy learning curve, and editing things like Zoom recordings to add in titles, additional slides, and overlays is incredibly easy.
Techsoup and Nonprofit Technology Network (NTEN): If your organization doesn't have piles of cash laying around to meet all your technology needs, you need to get plugged into both of these amazing organizations. Beyond offering amazing benefits, including some highlighted above for nonprofits taking their first steps into technology planning, both organizations have low cost or free options that are accessible to smaller nonprofits and grassroots organizations. Additionally, both organizations have free and low cost training for folks with limited tech skills and they've done amazing work in lowering the cost of membership and participation to make sure they are being mindful of equity, inclusion, and access in the digital space.