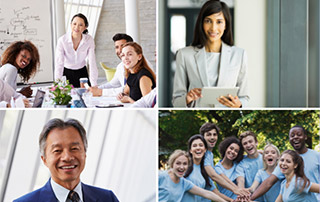 Boards whose members are culturally and economically diverse, and represent a broad range of skills across a wide age range, bring a fresh perspective to any organization. This can only boost your recruitment, fundraising and community outreach efforts.
The current trend in charitable giving—increasing total dollars, a decline in the number of donors, and an increase in the number of gifts of more than $1 million—reflects what many people believe about nonprofit funding and volunteering: It is the realm of the wealthy. Very often the images of altruism we see are of the Gateses, Buffetts, and Bransons of the world, and we draw a stark distinction between their activities and the micro-philanthropy—small acts of service and contributions—being carried out in communities every day. The grand gestures overshadow the small, and philanthropy appears homogenous. That image affects more than donorship. There are also potential volunteers and board members sitting on the sidelines thinking there is no room or need for them. Why does that matter? The sustainability of nonprofits is at stake. Widening outreach to a broader audience—giving philanthropy an updated heterogeneous image—will mean diversified donor bases, broader interest and perspective, and a wider talent pool.
While charitable organizations are undoubtedly grateful for the increasing largesse, the decreasing pool of donors must also be alarming. "Donor fatigue" is a constant concern for executive directors, development officers, and boards of directors. Sustainable fundraising eschews putting all an organization's eggs into a single basket (or even too few baskets), so engaging more individual donors is always the aim. Ultimately, those individual donors will be diverse themselves—by race, gender, socioeconomic status, and occupation. Nonprofits need to be armed with the big potential donor picture to make that a reality. We should know that women make up 43 percent of the top wealth owners in the United States and that they typically give out of empathy. We should understand why couples donate more than single individuals do, and how they volunteer time. We are challenged to recognize which groups are more engaged in informal volunteering and to invite them to give of their time, talent and treasure to formal programs and nonprofits. It should not be ignored that most of the dollars given to charity come from average citizens of moderate income. Understanding how different donor groups make donation decisions is an indispensable skill for fundraisers so they can cast a wider net than they may have traditionally.
According to the Bureau of Labor Statistics, food preparation and distribution is the most reported volunteer activity. For many people who want to give of their time, chopping veggies, making sandwiches, and serving meals at a neighborhood soup kitchen is a popular, top-of-mind way to do it. Not as many are aware they could be giving of their talents as well. Skills-based volunteering opportunities are a great way to engage professionals looking for new and challenging ways to give of their time, and to widen the sphere of interest in an organization. Skills-based volunteers typically remain committed to an organization even after their project is complete, and volunteers are 66 percent more likely to donate financially. Not a bad plan for diversifying a donor base and ensuring long-term solvency.
Increasingly nonprofit boards are moved—by internal and external forces—to become more diverse. With good reason. Studies show that boards with culturally diverse membership consistently operate better across all measures of board performance. There is also no shortage of arguments for including low- and moderate-income individuals, 35- to 44-year-olds, and those with no prior board experience among directors. Having individuals who are diverse in age, expertise, race, income and experience at the table contributing to the decisions guarantees new insights and perspectives, which can only benefit an organization's reach, recruitment and fundraising. With the help of agencies like VolunteerConnect, which provides comprehensive training of nonprofit board members, boards are free to recruit widely, to more closely reflect the diversity of the community served.
The need for service. The need for charitable giving. The need for fresh ideas. The need for those who will give of their time, talents and treasure will never go away. Nonprofits will guarantee their ability to meet those needs and assure their own long-term viability by onboarding diverse board members, presenting an inclusive public face and broadening their donor outreach.—Toni-Anne Blake