Pivot, Withstand, Renew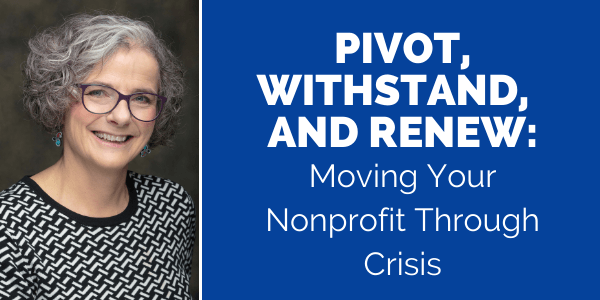 By Zoe Brookes, Partner, Oomen Brookes LLC
The pandemic has blown through our communities like a hurricane, canceling plans, changing priorities, leaving families grief-stricken, frustrated, and angry. As the pandemic anniversary approaches, we see encouraging signs of resilience and recovery, and some common themes in nonprofits' approaches to tackling challenges.
The hopeful stories nonprofits tell typically contain three parts:
Pivot: how they adapted their work;
Withstand: how they are getting through this crazy time, and;
Renew: what they've learned that will change their future.
These three stories are still unfolding, so the organizations are disguised.
Offering Arts Online
A youth arts program that brings together a hundred underserved children each day in normal times could not safely continue. This agency made two early pivots: first, they doubled down on meeting the needs of the older teens who relied most heavily on the program,  providing access to nutritious family meals and a quiet place for remote learning. Second, the team pivoted to meet an emerging need – for arts enrichment programming for elementary and pre-schools serving their students online. The older teens – accustomed to coaching in person – became online coaches, keeping little ones engaged in creative and connected activities while separated from their classmates. 
Withstanding the cancellation of this organization's lead in-person fundraising event presented a major challenge. Strength to survive came from their prior investment in strong relationships with local foundations and government agencies, along with continued support from loyal private donors.  One donor came through with funding for the audiovisual equipment they needed to complete their pivot.
For the future, the pandemic may have solved one of this agency's perennial problems – the high cost of transporting children to their space. While the teen coaches look forward to welcoming younger students in person, they can also see ongoing opportunities to reach more students where they are, using their newfound online capabilities.
Rethinking a Revenue Model
Among the hardest hit nonprofits are those that rely heavily on a single in-person event to cover their costs. One NJ-based international agency typically draws 70% of its income from its flagship event that brings children from across the world to compete in person. This agency pivoted in 2020 to take their competition online, and may have to do the same in 2021. Revenue from these events will be very much reduced, forcing the Board to reckon with their model's unsustainability.
2021 is a year of survival for this agency. They have made staff cuts, canceled investments in new projects, and are making plans to sell their office building to cover a cash flow crunch. The Payroll Protection Plan has been an essential lifeline, along with a strong commitment from staff to accept furloughs and temporary wage cuts as a way to pull through.
As the Board emerges from its 2021 crunch, they are facing some essential changes, reducing reliance on one in-person event and diversifying revenue streams. Shifting online has increased access for lower income students. Corporate sponsors, unable to obtain exposure through in-person events, are pivoting along with their nonprofit partners and spending their sponsor dollars on quality online events.  For the future, this organization expects to hold many more, smaller, hybrid events and to serve many more children who didn't have access before the pandemic.
Grabbing a Chance for Growth
For a training agency that provides free coding instruction to un- and under-employed young adults, the pandemic may turn out to be just the catalyst they need for growth. Until March of 2020, they offered all their classes in person, in a friendly welcoming center in the Bronx. Their tech knowledge helped them pivot to all-online classes quickly, though their students miss the in-person connection and support they offer in normal times. 
The pandemic helped this agency to view their business model as comprising two essential, but separable components – online instruction and in-person community. Before COVID, it might have been difficult to persuade students to enroll in an online program, and hard to attract donor support. Now, online learning has become second nature to so many more young people, and this agency has become a leader in delivering instruction in this manner.
These changes mean that, as the training program expands to other cities, the organization can continue to deliver their coding instruction online, in partnership with on-the-ground community partners. This brings delivery costs way down, and provides a path for accelerated growth.
Conclusion
From these organizations and others, we've noted common threads among those telling a strong "pivot, withstand, renew" story: the most resilient organizations entered the pandemic with three things in place: a healthy operating reserve, a strong, committed and diverse board, and a very clear understanding of their core mission.