In January 2020, VolunteerConnect launched its BoardConnect Diversity & Inclusion pilot program with our first Advisory Committee meeting of community experts, whose goal is to develop a road map to increase diversity in nonprofit boards.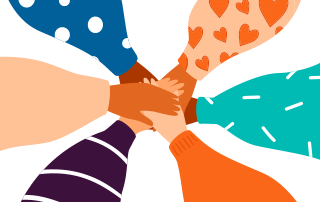 By Anne-Marie Hess and Toni-Anne Blake, VolunteerConnect Board Members
In January 2020, VolunteerConnect launched its BoardConnect Diversity & Inclusion pilot program with our first Advisory Committee meeting of community experts. The goal of the program is to develop a road map to increase diversity in nonprofit boards. This initiative supports a key element of VolunteerConnect's mission to provide strategies, programs and resources to central New Jersey nonprofits to help them increase their capacity and provide better outcomes to the communities, families and individuals they serve.
Why Consider Diversity and Inclusion in Your Board Selection Process?
The United States is increasingly becoming more diverse. In addition to visible demographic factors, different life experiences and perspectives add to the diversity of communities. And there is hidden power in diversity: Diversity and inclusion in teams can provide better outcomes.
There has been substantial research supporting the benefits of diversity to boards, work groups and teams in a variety of organizations. Broadly, the research indicates that diverse teams perform better by including varied experience-based perspectives and competencies that can contribute to better results and board governance. These varied perspectives can arm nonprofit boards with the tools needed to avoid the potential blind spots of homogenous teams through more informed decision making.
Improve Board Performance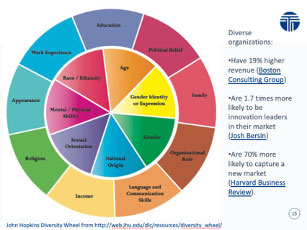 In nonprofits, diversity can come from inclusion of various members of the community. While race and gender diversity most typically come to mind, boards can also consider age, physical ability, gender expression, socioeconomic status, education, religion, political leaning or body type. Diversity based on informational differences, reflecting a person's education and life experiences, as well as on values or goals can influence how a board member perceives and interprets the organization's mission. These varied perspectives can contribute to more robust solutions and favorably impact board and organizational execution. The research provides interesting insights on how diversity can impact performance.
In 2010, researchers from Carnegie Mellon University, Union College and MIT examined the performance of approximately 700 people working in groups to solve both simple and complicated tasks. The research found that the best predictor of performance was a collective measure of intelligence or "c" of the group itself. One factor predicting "c" was the number of women in the group. Groups with women tend to be more socially sensitive and likely to consider varying opinions.
A 2015 McKinsey report on 366 public companies found that those that had the most ethnic and racial diversity in management were 35 percent more likely to have financial returns above their industry mean, and companies that had the most gender diversity were 15 percent more likely to have returns above the industry mean.
In a study published in the Journal of Personality and Social Psychology, scientists assigned 200 people to six-person mock jury panels whose members were either all white or included four white and two black participants. The diverse panels raised more facts related to the case than homogenous panels and made fewer factual errors while discussing available evidence.
In a global analysis of 2,400 companies conducted by Credit Suisse, organizations with at least one female board member yielded higher return on equity and higher net income growth than those that did not have any women on the board.
Improve Board Innovation
Research also suggests that diverse teams tend to be more innovative.
For nonprofit organizations to be sustainable, they need to adapt to the changing needs of the communities they serve.
One of the best ways to enhance their ability to innovate and improve programming can involve inclusion of diverse team members. The research shows that diverse teams tend to be more innovative.
In a series of experiments conducted in Texas and Singapore, researchers found that members of diverse financially literate teams were 58 percent more likely to price stocks correctly, whereas those in homogenous groups were more prone to pricing errors, according to the study, published in the journal PNAS.
Another study, published in Innovation: Management, Policy & Practice, analyzed gender diversity in research and development teams from 4,277 companies. Researchers found that companies with more women were more likely to introduce radical new innovations into the market over the two-year period examined in the research.
Data from 7,615 firms that participated in a London Annual Business Survey revealed diverse leadership teams were more likely to develop new products than those with homogenous leadership. The report on the data, published in Economy Geography, concluded that increased diversity improved innovativeness.
Everything we are—gender, race, sexual orientation, physical abilities, education, socioeconomic status—informs our frame of reference, colors how we see the world around us, and makes us unique. And as nonprofits are challenged to evolve to meet the needs of their constituents, to expand and increase their fundraising base, to recruit expertise to their staff and board, and to improve board performance, we can little afford to ignore the edge a diverse board provides. There is much to be gained from making boards diverse. Why not aim to get the benefit of varied experiences, assorted perspectives, a mix of expertise, and divergent views that will undoubtedly improve your nonprofit's innovation and performance?
Sources:
https://hbr.org/2016/11/why-diverse-teams-are-smarter
https://www.forbes.com/sites/sianbeilock/2019/04/04/how-diversity-leads-to-better-outcomes/#3028baf365ce
https://www.gsb.stanford.edu/insights/diversity-work-group-performance
https://knowledge.wharton.upenn.edu/article/great-teams-diversity/
https://thriveglobal.com/stories/lived-experience-creates-more-effective-boards-of-directors/