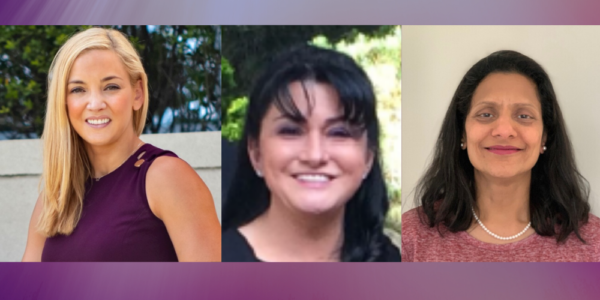 VolunteerConnect Welcomes Three New Board Members to Board of Trustees
Training experts Radia Carr and Monica Orozco and patent attorney Dr. Rena Patel have joined the VolunteerConnect board of trustees. The new appointees began their board service with the Princeton-based capacity-building nonprofit in June 2020. VolunteerConnect is committed to supporting the work of other charitable organizations by training effective board members and facilitating the ongoing education of nonprofit staff and boards.
"We are very happy that Radia, Monica and Rena have agreed to share their expertise and insights as board members with us," said VolunteerConnect's executive director Allison Howe. "We continue to focus on training our nonprofit community and are expanding our offering of programs. These new board members bring the leadership and experience to make this happen."
Radia Carr is VP, Client Engagement & Corporate Trainer at Dale Carnegie in Hamilton. She has provided training and her sales expertise to leaders in research & development, pharmaceutical, financial services and food and grocery industries. She has served as a board member of the New Brunswick New Jersey Rotary Club and has raised funds for many years on behalf of the MS Society.
Monica Orozco is a Learning Consultant at Momentum Consulting and Coaching, LLC specializing in the facilitation of leadership development programs. She has had extensive international experience in providing training to clients from Bristol Myers Squibb and Merck Inc. to Gap Inc. and American Express. Monica has volunteered for over 20 years at Trenton Area Soup Kitchen (TASK) and Loaves and Fishes Soup Kitchen and more recently at Princeton Hospice.
Dr. Rena Patel is a seasoned intellectual property (IP) attorney with significant global experience in innovation and IP protection and management. During her international work, she served on the Board of Trustees of the American School of Bombay for many years. More recently, she made significant contributions to the greater Princeton community through her leadership of the West Windsor-Plainsboro Education Foundation including as President of the board.