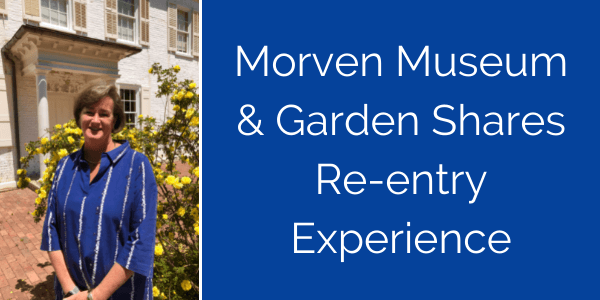 Jill Barry,
Executive Director, Morven Museum & Garden

"I just wanted to let you know how wonderful our visit to Morven on Thursday, May 6th, was. We were simply delighted and it was a wonderful re-entry event. I appreciate all the staff that we interacted with and who helped make our first re-entry event so much fun."

-email to Morven staff
Receiving messages like the one above signal a ray of hope that the "new normal" is on its way, and visits to museums and cultural institutions are high on people's wish lists.
Morven was one of the first New Jersey museums to reopen its galleries in July 2020 following all CDC and safety protocols after keeping the property open for passive visitorship throughout the shutdown. We continue to work hard to meet people where they are comfortable; we expanded our garden tours, outdoor history strolls, and turned our weekly tea into no-contact box lunches in the garden and broadened our array of offerings to include presenters from around the world zoomed in for Morven specific content, all features we probably wouldn't have so quickly adopted had the pandemic not necessitated out-of-the-box thinking.
Morven was on track to have its highest visitation numbers of all time when we had to close our doors in March 2020 and while we are slowly seeing visitors return, we know the climb back is uphill. Taking the lessons of the pandemic with us, we plan to have our in-person events also have a virtual component, keeping and ideally growing our distant audience, while inviting those who may not be ready for on-site interaction to peek inside, virtually.
We developed a free monthly virtual program "Morven Moments" as part travelogue, part museum resource, to give the public glimpses inside the museum and encourage dialogue with our Curator of Education and Public Programs and a long-time docent while keeping a robust schedule of our normal programs and lectures. We began online ticketing to control capacity restrictions which will carry forward to ensure a comfortable visitor flow.
We are heartened by the members who stayed with us throughout the pandemic and welcomed members from across the community and globe virtually while our doors were shut, reminding us that the primary lesson an historic site like Morven Museum & Garden teaches us is that there is always tomorrow.
To learn more about the Morven Museum & Garden, you can visit their website at this link.